NOVEMBER AND FEBRUARY LOCATIONS 2019

Propulsion Works Open studio for head shoots and portraits from OCTOBER 18 to the 23 2020. Please Contact for Appointment EMAIL Please arrive on time for your scheduled makeup session if contracted.
1113 Madison Avenue MAP (83th New York, NY 10028 St.) Tuesday, APRIL. 17 2020 Please arrive on time or early for your scheduled makeup session. We will do our best to run on time, but please allow for 1½ hours at Kimara Ahnert.
APRIL 21: Saks, 205 Greenwich Ave, Greenwich, CT 06830. Please arrive on time or early for your scheduled makeup session. We will do our best to run on time, but please allow for 1½ for makeup and hair.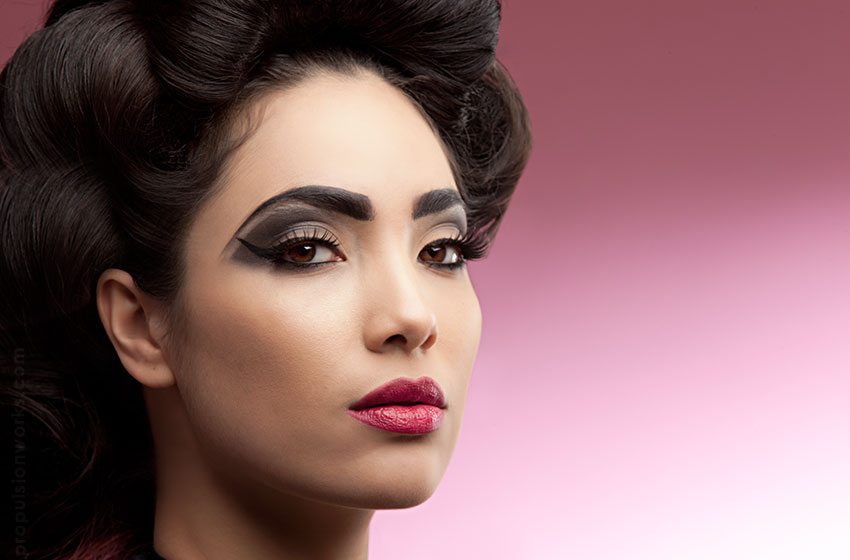 A FEW HINTS ABOUT WHAT TO WEAR
1) Look professional; these are professional headshots, so collar and neckline are important. Some shots may extend to 3/4-body length but not your waistline.
2) You will be photographed on a grey colored paper. No matter what you wear, neutral color help you look good.
3) Accessories are great but don't choose ones that are very large and/or shiny, as they will distract attention from your face. 4) Dress for your profession. Dresses and a sharp crisp blouse look great.
5) You are permitted 2 looks (jacket on/jacket off or 1 complete change of outfit)
6) Avoid bold colors and busy striped patterns.
7) If you have a short neck, wear a V-neck or blouse with 1-2 buttons undone to lengthen the neckline. Sleeves are better than sleeveless.
8)  Avoid turtlenecks. They completely cover the neck and tend to be unflattering.
9) If you wear glasses and have frames without lenses, please bring them.  Lenses reflect light.  If your glasses lenses have been coated with an anti-reflective glaze, please bring them, as the light reflection will be reduced.  We may ask that you sit for some of your pictures with glasses on and glasses off.
10) Bring Visine (if your eyes are red) and use before make-up is applied.
11) Hair needs to be styled before you get to the shoot. Please bring your own brush or comb to use prior to shooting your photo.
12) Do not drink (alcohol) excessively the night before to guard against puffiness and ensure eye clarity.
Photographer, Alejandro Barragan, will take several shots. You will have the opportunity to review the photos and take a few more if necessary. The photos will be sent to you from Alejandro via his website, http://www.propulsionworks.com.  You will get the entire session and have one week to select 2-3 shots that you like to have them adjust to a high resolution. 
Email Alejandro at alejandro@propulsionworks.com and provide him with the

numbers

of the photos you have selected, and he will do adjustments to make them look "finished".  He will send you photos that can be posted on various websites, or you may have prints made through propulsionworks.com. If you would like your image retouched, That is a separa service the cost starts at $25 for basic work on hair per full-size printable image.
Alejandro suggests that you keep your image as natural as possible (he uses many available techniques). Post-production work will take place only if you contact Alejandro and discuss what you would like to have retouched and the price is established. All retouched photos are re-sized to meet the needs of both printing and online social media sites.
Photographer owns his own work, but if the shot is used for self-promotion only (LinkedIn, Facebook, online directories, blogs, personal/corporate websites, speaking engagements), then you are free to use the image. Please note that this opportunity has been set up for self-promotion only. Should you need any other type of photo, we suggest you contract with Alejandro separately (i.e. photo for a book or book jacket or a printed corporate brochure), a fee and photo credit will need to be negotiated. Please email with any further questions
HOW TO PREPARE FOR YOUR PORTRAITS

Trust your photographer and ask him for recommendations and don't forget tell him how the photos will be used. If you are not sure what to wear for your photo shoot follow these recommendations.
Colors:
Mid-tone colors are the best choice. Avoid plain white as it tends to draw attention away from your eyes. Try to wear color close to your skin tone this help to accentuate your natural features.
Neckline:
Do you have a long or short a neck? If you have a short neck, a V- neck will lengthen your neckline. Turtlenecks completely hide the neck and tend to be unflattering. Round necklines shorten the neck. A collared shirt with a V-neck, jacket or a few buttons undone is a good idea.
Arms and sleeves:
Do you have thin arms or strong arms? Some of your shots may be 3/4 body shots. With slim arms you can wear anything. If you have strong arms, tops with sleeves long enough to cover your shoulders down to your elbows (or at least most of your triceps and biceps) are recommended.
Patterns and logos:
Avoid bold colors and busy striped patterns or any kind of strong patterning. This will present distraction from your face and figure.
Jewelry:
Avoid distracting accessories such as large shiny jewelry. If you have pierced ears, nose or lips, use studs or nothing at all. No matter how much you think you love your accessories, we don't want anything that will take the focus from your face.
Personal:
If you wear glasses bring the frames only with out the lenses. If your glasses have an anti-reflective coating, we can work with them, but the glasses may reflect light. Lesther and denim jackets are not recommended. However, wear something that makes you feel comfortable.